Stick
Game Modes
Only Survival Mode
Type of Items
Tools
Luminosity
No
Transparency
No
Renewable
Yes
Stackable
Yes
Stick is a type of an item, made from Wooden Planks, and used to craft many tools and items. Sticks can be used as a fuel in the Furnace. But it have the lowest efficiency, so you need two sticks for a full cycle of smelting in the Furnace.
2 Wooden Planks ==> 4 Sticks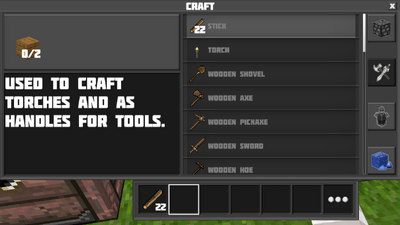 Below you can see how to make different blocks and items using Stick.
Community content is available under
CC-BY-SA
unless otherwise noted.